Are You looking for a course in IPT?
Go to Certified Trainer Directory below Therapist & Trainers and search for the area/ Country You belong to. ISIPT have IPT-trainers all over the world, speaking different languages. Ask when the next IPT-Course is running. You may also search at Regional IPT groups below "About". You probably find relevant contact information there.
---
Do You want to market an upcoming IPT-training?
Please contact us for further information.
---
Upcoming Trainings:
IPT training – on-line training workshop April 21 and 22, 2023 9-4pm. Cindy Stulberg and Ron Frey, psychologists and directors, Institute for Interpersonal Psychotherapy have over 40 years combined experience in providing IPT for clients, and training, supervising and certifying clinicians learning IPT. The two day training offers didactic information, video case examples, role play and opportunities to practice IPT strategies. The training is adapted to meet the individual needs of participants who can begin to implement the model upon completion of training. For more information please email cindystulberg@gmail.com $525 CAD for two day training.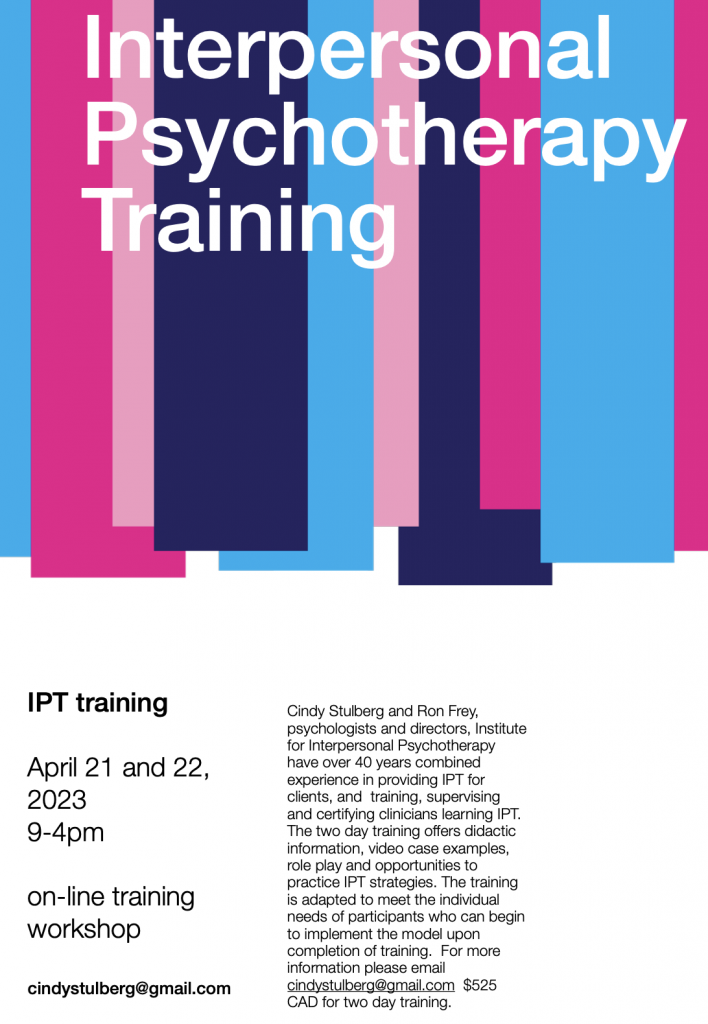 ---
The Swedish society for Interpersonal Psychotherapy: Introduction course (level A) in Swedish, digital format. Trainer Malin Bäck. For more information: https://relatera.net/utbildning/
---
Anna Freud National Centre for Children and families: At AFC Roslyn Law and colleagues are recurrently running courses in IPT; all from introductory courses to trining for supervisors. For more information: https://www.annafreud.org/training/training-and-conferences-overview/