Train-the- Trainer Model for Implementing IPT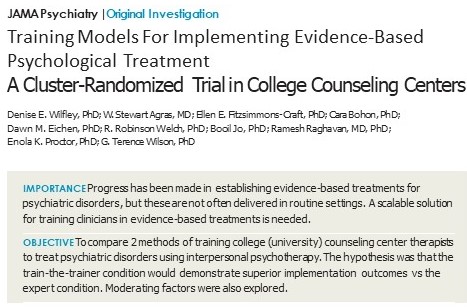 A practical, scalable, effective means of training therapists to implement evidence-based therapies is needed. One option for which there is a strong theoretical case for changing therapist behavior is the train-the-trainer approach, which centers around the development of a trainer who then trains therapists in the setting and serves as an internal coach.
In a recent study, the authors compared the implementation outcomes of 2 methods of training therapists to treat depression and eating disorders on university campuses using IPT. Counseling centers were randomized to the expert condition, which involved a workshop and 12 months of follow-up consultation, or the train-the-trainer condition, in which a staff member from the counseling center was coached to train other staff members. The main outcomes were therapist fidelity (adherence and competence) to IPT and  the therapist knowledge of IPT.
Results demonstrate that the trainer model produced training outcomes comparable with the expert model with respect to adherence and actually demonstrated superiority with respect to competence. Because a trainer is embedded in the site, therapists can continuously be trained over a prolonged period, providing sustainability of benefits, including potential cost-effectiveness. This model may also be a particularly good fit for college counseling centers, which typically have new trainees entering each year. Given its potential capability to train more therapists over time, the train-the-trainer model has the potential to facilitate widespread dissemination of IPT.   Read More

IPT NEWS!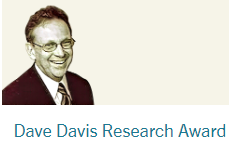 Dave Davis Research Award
Dr. Paula Ravitz (Associate Professor, Psychiatry), Dr. Clare Pain (Associate Professor, Psychiatry), and Dr. Dawit Wondimagegn (Associate Professor, Psychiatry) were awarded the 2019 Dave Davis Research Award from the University of Toronto Faculty of Medicine for the Biaber Project, to scale up screening and treatment of common mental disorders using culturally adapted IPT in Ethiopian primary care.
Dr. Dave Davis has had a long and distinguished career in Continuing Professional Development at the University of Toronto. He was the Associate Dean of Continuing Education in the Faculty of Medicine at the University of Toronto from 1994-2005, and laid the groundwork for the concept of evidence-based Continuing Professional Development . He authored several seminal publications outlining what education delivery methods are effective agents of change for changing behaviours of health professionals leading to improved patient outcomes. In 2001, he established the University of Toronto Knowledge Translation research program. The Dave Davis Research Award recognizes an outstanding completed research/scholarly project in Continuing Professional Development in the Faculty of Medicine.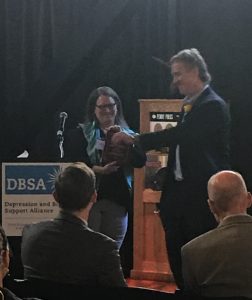 Depression and Bipolar Support Alliance honored Holly Swartz, MD, with Gerald L. Klerman Senior Investigator Award
The Depression and Bipolar Support Alliance (DBSA), the nation's largest patient-run
organization focusing on depression and bipolar disorder, presented its 2018 Gerald L. Klerman Awards on May 20, 2019, in San Francisco. Holly Swartz, M.D. was honored with the 2018 Gerald L. Klerman Senior Investigator Award for her career-long contributions to mental health research. DBSA's Klerman Award is the highest honor DBSA extends to members of the scientific community. It recognizes researchers whose work contributes to understanding the causes, diagnosis, and treatment of depression and bipolar disorder.
Welcome to the Online ISIPT community!
Tweets by IntSocIPT